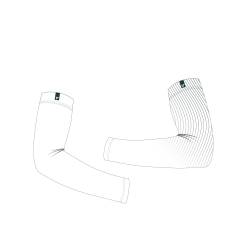 FP Thermal Arm Warmers
Made of soft and warm thermal material for a pleasant ride on cold days.
These arm warmers, made of the highest quality Italian thermal material, keep you warm in cold conditions. The elastic and breathable material is anatomically cut to the right and left side. A single seam increases comfort, while a silicone band at the top and bottom provides perfect support. With its full print option, you can create arm warmers in your own design. These arm warmers make your spring and late year rides incredibly flexible. 
Thermal Fabric                                                                       
Elastic and breathable material                               
Anatomical cut                                                                  
Minimal seams for smooth material                            
Silicone band for good grip                                                   
Full print option for your creative design